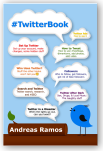 Author of twelve books on SEO. SEO Consultant. Previously Manager of Global SEO at Cisco. See more about me.
I'm the technical editor of Search Engine Marketing, Inc. by Mike Moran and Bill Hunt (IBM Press, 3rd ed., 2014). This is the authoritative book on enterprise-level SEO. Mike is a Distinguished Engineer at IBM and was head of IBM SEO for 15 years.


How to Write a Book! by Andreas Ramos. Yes, you can write a book! Get the #1 Best Seller at Amazon. Go How to Write a Book! (August 2014.)



#TwitterBook: Do you "get" Twitter? The inside scoop on Twitter. Learn how to use hashtags and get followers in plain English. 2nd edition, fully revised and updated. #1 Amazon Best Seller. Go #TwitterBook (Sept. 2014).



The Big Book of Content Marketing: 80% of your digital advertising doesn't reach your audience. There's a new solution. The Big Book of Content Marketing. Amazon Best Seller on its second day. Published in Europe, Latin America, North America. (May 2013) #BBoCM




The ASO Book: App Store Optimization by Andreas Ramos. Are you developing apps? Learn how to get your app to the top of the Apple App Store and Google Play app store. Get more people to download and use your app.

andreas.com

. (Oct. 2014.) Go to The ASO Book


SEO eBook by Andreas Ramos and Stephanie Cota. Be findable in search engines. Andreas is the Manager for Global SEO at Cisco. Stephanie is the Manager of Analytics at Kaiser. Free eBook. Go SEO eBook (Nov. 2013).


Learn SEO, PPC, and Analytics. My book Search Engine Marketing (McGraw-Hill USA 2009, Tsing Hua University Press China 2010, McGraw-Hill Taiwan 2010). At all major bookstores and Amazon Kindle. Foreword by Haoyu Shen, #2 at Baidu.com. Go SEM Book. (Sept. 2013).


Free KPI eBook
With 4th-grade math, you can calculate KPIs, Cost-per-Lead (CPL), and Cost-per-Action (CPA).

MIT Case Study How I took MIT from 52 to 17,500 visits per day and lowered cost per click from $0.70 to $0.07.

A list of
books
by me.
My eye-witness account of the Fall of the Berlin Wall. Published in many history text books.
Hokusai, the Japanese artist (1760-1849), changed 20th century art. His inspiration? Dutch wrapping paper...
Get Free Books
Want free advance copies of my books? Subscribe to my free monthly newsletter.